Major regeneration aims as council buys key town centre site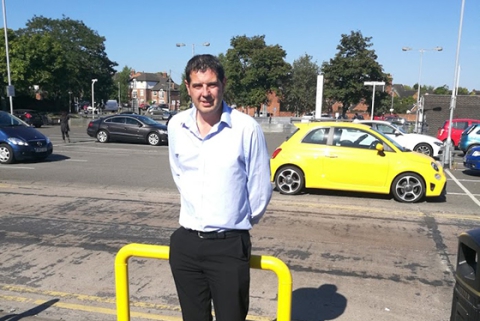 Tamworth Borough Council has purchased a key town centre site for investment purposes, and with the longer term aim of finally unlocking it for major regeneration.
The authority now owns the Gungate and Spinning School Lane car park site, bordered by Marmion Street and Spinning School Lane, and will be looking to masterplan significant regeneration in the area over the coming years.
Leader of Tamworth Borough Council, Cllr Daniel Cook, said:
"This is a key town centre site which we have had little or no control over in the past. When it was bought by Henry Boot Developments from the previous landowners more than a decade ago, we were hopeful that it would bring significant investment to the town centre. Despite our best efforts supporting the previous landowners to try and bring it forward for development, their plans never came to fruition.
"When the land came up for sale again recently, we decided the best way to unlock this key site for the benefit of Tamworth would be for the council to step in and buy it as a long-term investment. This was a cross-party decision which represents a fantastic opportunity to shape the future of the town centre in a way that promotes growth and economic development in Tamworth.
"We now need to spend some time understanding how regeneration can best be achieved given the current retail environment.  We don't envisage a retail development of the scale that was originally planned by the previous owners as clearly the market did not support this.
"It is more likely that we will explore a mixture of uses such as housing, retail, leisure and car parking. It is time for the town centre to evolve a little, to improve the offer to increase footfall, because we cannot continue to allow decline. We must move with the commercial demands of the 21st century.
"NCP has a long-term lease to operate the Gungate car park section, formerly managed by Gallan, and there are a couple of businesses around the edge of the land, so we will be working with these existing occupiers as we consider the best use of the site.
"In reality we're probably looking at a three to five-year plan because it's important that we get this right. This is a really exciting opportunity for the future growth and prosperity of Tamworth town centre, which represents a good return on investment in the meantime.
"It also forms part of our wider and ongoing plans to regenerate the town centre, which includes the £6.1million development of the Enterprise Quarter, the installation of the new Aethelflaed statue, the gateways project to improve major routes into the town centre and various other initiatives and events designed to boost visitor numbers to the area."