Town centre businesses invited to be part of FREE Food & Drink Trail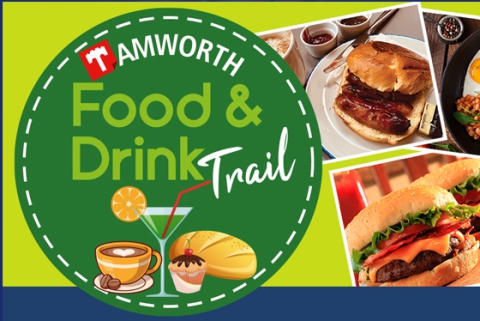 Tamworth Borough Council is encouraging town centre businesses to participate in their FREE Food & Drink trail to highlight the unique and independent shops the town has to offer.
The trail is one of a number of many projects the council is carrying out to transform Tamworth and make it a more attractive place for visitors to shop and stay.
The Food and Drink Trail will consist of a map on which we place our different town centre businesses. As part of the project, businesses will have the spotlight put on them, for free, with one of our colleagues visiting your premises to take pictures and videos to promote your venue on our websites and social media platforms.
The Food and Drink Trail is being financed through the £67,455 Tamworth Borough Council received from the European Regional Development Fund (ERDF) Welcome Back Fund. And the aim is to use the money to help begin the safe return of high street shopping after the Covid-19 pandemic and to attract people back to the town.
Cllr Jeremy Oates, Leader of Tamworth Borough Council, said: "This is a great opportunity for us to enhance our efforts to regenerate the town and showcase to visitors what a great place Tamworth is to visit with all our different food and drink businesses. We will make the most of any opportunity that comes our way, including this funding.
"There's a lot of incredible local businesses here that are hidden gems that we need to promote. It's all about increasing footfall, raising awareness of these unique and special businesses and supporting them by highlighting what they offer."
The Food and Drink trail will focus on town centre businesses WITH seating.
If you are a business in the town centre with seating and would like us to highlight and promote your business as part of the Food and Drink Trail, please fill in our sign-up form via our Visit Tamworth website.
As well as the Food and Drink Trail, cash from the Welcome Back Fund was put towards setting up an augmented reality (AR) trail throughout the town centre – which is set to launch later this month. This will bring history to life using virtual technology and highlight some of the town's historical people and places.
Some money from the Welcome Back Fund is being used to finance additional deep cleaning in the town centre to ensure that it is an attractive and welcoming place for people to visit. This is including steam cleaning and jet-washing of hard standing areas, cleansing along shop fronts, street furniture and litter bins.
Furthermore, there will be additional bins situated around the town centre to limit the amount of littering, and street furniture will be refurbished and painted where needed.
Notes 
This project is receiving up to £67,455 of funding from the England European Regional Development Fund as part of the European Structural and Investment Funds Growth Programme 2014-2020. The Ministry of Housing, Communities and Local Government (and in London the intermediate body Greater London Authority) is the Managing Authority for European Regional Development Fund. Established by the European Union, the European Regional Development Fund helps local areas stimulate their economic development by investing in projects which will support innovation, businesses, create jobs and local community regenerations. For more information visit www.gov.uk/european-growth-funding.